It was only upon reading
this post
of Jeff's that I first realized that whenever somebody would mention Tony
Curtis
around me, I would be thinking of Tony
Randall
. This has caused me no small amount of confusion, because people would heap all kinds of accolades upon this actor, who in my mind was pretty much a wanker. So I would just sort of stay quiet and assume that the other person was a lunatic. But when Jeff wrote that Tony Curtis was "able to play despicable people while still managing to charm the pants off you," I was so confounded that I took to Google and realized my error.
To save the rest of you from making the same mistake, I am providing the following cheat sheet that you can print out and take to cocktail parties to help you avoid embarrassment and confusion:
Tony Curtis -->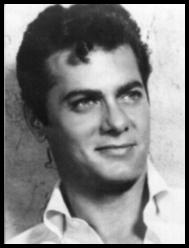 Tony Randall -->
Don't say the Muck never taught you anything. I certainly can't.